Montreal, Quebec: Aurvista Gold Corporation's ("Aurvista" or the "Company") (TSX-V: AVA, OTCQB: ARVSF; Frankfurt: AV2) is pleased to announce that the Company has staked an additional 294 mineral claims and added 164.4 km2 surrounding the Company's Douay Gold Project ("Douay"). Douay now consists of 573 claims covering ~305 km2 with extended strike length along the Casa Berardi Deformation Zone in the prolific Abitibi Greenstone Belt of northern Quebec.
Jean Lafleur, President and CEO of Aurvista, stated: "We developed a new exploration model in 2016 that has been guiding our exploration efforts at Douay ever since. Exploration work over the past 12 months has led to a number of new gold and base metal targets at Douay. Management felt it was prudent to take advantage of recently abandoned claims and expand the Project's footprint to a commanding 305 km2. As a result, the Company has more than doubled the size of the Douay Gold Project and increased the exploration upside and potential for new discoveries going forward."
Aurvista has expanded the Project's original claim boundary in multiple directions. The Company plans to complete airborne geophysical coverage and initial ground surveys over the new claims in the summer of 2017. The figure below highlights the expanded claim ownership at Douay: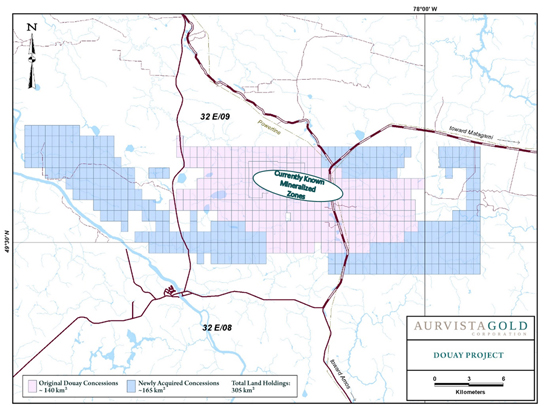 Figure 1: Outline of Original Douay Claims & Newly Acquired Ground
Douay Gold Project and Company Profile
Aurvista Gold Corporation is a leading gold exploration and development Company advancing the Douay Gold Project in Quebec. Aurvista's Douay Gold Project now consists of a 100% owned interest in 541 mostly contiguous claims totaling 293 km2 and a 75% interest (25% held by SOQUEM) in 32 contiguous claims totaling 11.9 km2. In total, there are 573 claims covering 305 km2 located along a 40 km segment of the Casa Berardi Deformation Zone in the prolific Abitibi Greenstone Belt of northern Quebec. Douay is located 40 km SW of the Matagami Base Metal Camp and ~140 km N of the Val-d'Or Canadian Malartic Gold Camp (both in Quebec). The Company has 138,545,780 shares outstanding trading on the TSX Venture Exchange in Canada, the Frankfurt Stock Exchange and OTCQB in the US. For more information, please visit the Company's website at www.aurvistagold.com.
Qualified Person
The technical contents in this news release have been approved by Mr. Jean Lafleur, M. Sc., P. Geo., President and CEO for Aurvista Gold Corporation, a non-independent Qualified Person under National Instrument 43-101.
For further information please contact:
Mr. Jean Lafleur, P. Geo.
President and CEO, Director
Cell: +1 514 927 3633
Mr. Keith C Minty, P. Eng., MBA
Chief Operating Officer
Phone: +1 416 682 2671
NEITHER THE TSX VENTURE EXCHANGE NOR ITS REGULATION SERVICES PROVIDER (AS THAT TERM IS DEFINED IN THE POLICIES OF THE TSX VENTURE EXCHANGE) ACCEPTS RESPONSIBILITY FOR THE ADEQUACY OR ACCURACY OF THIS PRESS RELEASE.
Forward-Looking Statements
This news release may contain forward-looking statements based on assumptions, uncertainties and management's best estimate of future events. Actual events or results could differ materially from the Company's expectations and projections. Investors are cautioned that forward-looking statements involve risks and uncertainties. Accordingly, readers should not place undue reliance on forward-looking statements. When used herein, words such as "anticipate", "will", "intend" and similar expressions are intended to identify forward-looking statements. For a more detailed discussion of such risks and other factors that could cause actual results to differ materially from those expressed or implied by such forward-looking statements, refer to Aurvista Gold Corporation's filings with Canadian securities regulators available on www.sedar.com or the Company's website at www.aurvistagold.com.