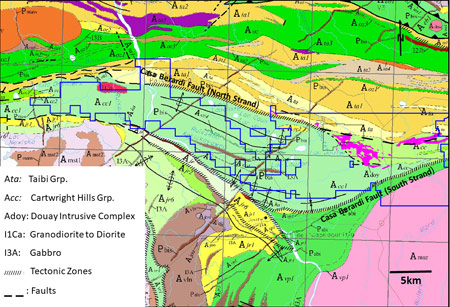 The Douay Gold Project covers an area of more than ~390km² along the Casa Berardi Deformation Zone ("CBDZ") within the prolific Abitibi Greenstone Belt ("AGB"). Douay belongs to the alkaline-intrusive-associated gold class of mineral deposits, which includes Beatty (>5.6Moz Au), Holt-McDermott (>1.3Moz Au), and Canadian Malartic (>17Moz Au) in the AGB. The area is also prospective for the more typical AGB orogenic style (structurally controlled gold-quartz veins and veinlets) of gold deposit as well as for volcanogenic massive sulphide ("VMS") deposits.
The Douay project is underlain by a northern assemblage of mafic and felsic pyroclastic and sedimentary rocks (Taïbi Grp), a central assemblage consisting of basalts, co-genetic gabbros with lesser felsic volcanic rocks (Cartwright Hills Grp) intruded by the 6.5 x 2km Douay alkaline intrusive complex (syenite to monzonite, alkali gabbro and carbonatite) with its associated gold mineralization; and a southern assemblage consisting mostly of basalts (also Cartwright Hills Grp) with siliceous-chemical sediments and chlorite-sulphide alteration zones that may be associated with VMS style of mineralization. The volcanic stratigraphy strikes WNW to ESE whereas the major regional fault zones trend E-W or NW-SE. Existing drill data shows multiple higher-grade zones, including Douay West, within and near the Douay intrusive complex. In addition, there are further poorly explored known and possible syenitic bodies elsewhere on the property.
Fe-carbonate-albite-pyrite alteration assemblages may be associated with higher gold values, generally above 5 g/t gold. Fractured syenite containing irregular fine pyrite veinlets in addition to disseminated pyrite, encompassing altered basalt fragments and magnetite-rich zones typically yields 0.1 to 1 g/t gold or more over intervals from tens of metres to over 150m.